Office Administrator
Jaesook Peters is likely the first person you will encounter at FMCW. She has been our Church Office Administrator since late 2013. She was born in South Korea and came to Canada in 2002 to study. This is where she met her husband James.
Jaesook grew up in the Catholic Church in Korea and had never encountered Mennonites in her upbringing. However she has found everyone at First Mennonite to be very friendly and welcoming and she feels at home here. She, James and their two children attend regularly and are very involved in the Church family.
In her spare time, she enjoys watching her children participate in their various activities.
204- 772-2419
fmc@mymts.net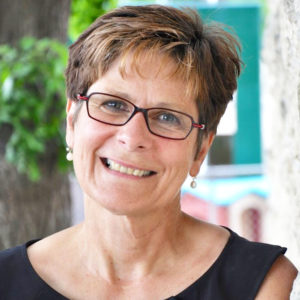 Leading Minister
Kathy Koop joined the ministerial team at First Mennonite Church in 2002 as Associate Minister. Kathy was ordained in 2004. In 2010 FMC called her into the role of Leading Minister.
Kathy brings many different experiences to her ministry at FMC. She grew up in Germany where she completed a nursing degree and a Certificate in Biblical Studies at Bibelschule Bienenberg in Switzerland. Responding to an increased interest in theological studies she moved to Winnipeg where she graduated with a Bachelor in Theology. She graduated from Associated Mennonite Biblical Seminary with a Master of Arts in Theological Studies, and has taken education courses at Goshen College. Kathy has worked as a Youth Minister and as a Chaplain in Ontario, taught German at a high school in Goshen, Indiana, and served under Mennonite Central Committee in Germany for four years.
In her spare time, Kathy enjoys walking, hiking, baking, watching German detective shows, reading a good novel, and spending time with her husband Karl, their four daughters, sons-in-law, grand-daughter, and their friends.
204- 772-2419
kathykoop@mymts.net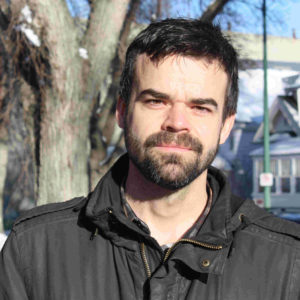 Associate Minister
David Driedger joined the ministerial team at First Mennonite Church in 2010. His main responsibilities lie in preaching and pastoral care. David was ordained in 2011.
David grew up in the Altona area where his family attended the Sommerfeld Mennonite Church and he was later baptized in the Evangelical Mennonite Mission Church. As a young adult, David moved to the West End of Winnipeg where he commuted to Providence College and Seminary completing a BA and MDiv. During this time David met and married Chantal.
In 2005 they moved to Hamilton, Ontario where David studied briefly at McMaster University and began pursuing ministry in Mennonite Church Canada. David's first pastorate was on a pastoral team at Hillcrest Mennonite Church in New Hamburg, Ontario. During this time he also finished an MA in spiritual care at Wilfrid Laurier University.
David enjoys reading and writing and has published articles in Canadian Mennonite, Rhubarb, and The Conrad Grebel Review.
204- 772-2419
daviddriedgerfmc@gmail.com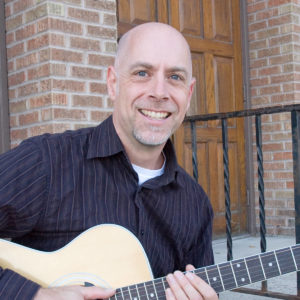 Associate Minister
Mark Von Kampen grew up at First Mennonite Church. He joined the pastoral team in 1991 as associate minister and was ordained a year later. Currently Mark serves the congregation half time, focusing on worship and facilitating young adult involvement. He also serves part time as the Mennonite chaplain at the University of Manitoba.
Mark's interest in biblical and theological reflection were awakened while studying at UofM and taking electives at Canadian Mennonite Bible College, culminating in a masters thesis in Landscape Architecture exploring environmental ethics from a biblical perspective.
After working with a design consulting firm, Mark attended Associated Mennonite Biblical Seminaries and graduated with a Master of Divinity.
For recreation, Mark enjoys pursuing musical and creative interests, spending time outdoors and sharing time with friends and family.
204- 772-2419
mvonkampen@gmail.com
Associate Minister
Erika Enns Rodine grew up in Southern Manitoba and was baptized into the Altona Bergthaler Mennonite Church where she grew up and had her first experiences teaching junior high Sunday school and being a youth leader.
In 2004 Erika moved to Winnipeg to pursue studies at Canadian Mennonite University, where she completed her B.A. majoring in Mennonite/Anabaptist History and minoring in Biblical & Theological Studies. Since 2010 Erika has been serving half time at First Mennonite Church in the area of youth ministry. She immensely enjoys spending time with the young people of the congregation and leading in worship. She has presented to school, church/youth and camp groups across MB & SK on topics such as Stranger Things and Dragons in the Bible, and is an avid supporter of Camps with Meaning.
Erika and her partner Josh have 2 daughters who keep them crazy! Erika loves singing along to her playlists on her commute, going for coffee, and in her spare time has fun baking, gardening and cheering on the Jets.
204- 772-2419
eenns-rodine@mymts.net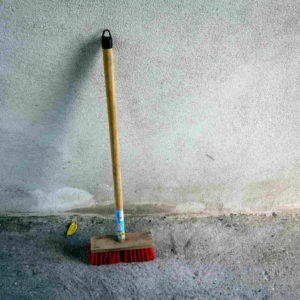 Caretaker
Christine Sanchez
Currently on sick leave